United Association Refrigeration Workers Local Union 787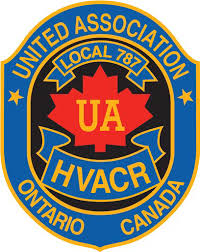 UA Local 787 Address: 419 Deerhurst Drive, Brampton, ON L6T 5K3
(P) 905.790.1019
UNITED ASSOCIATION HVAC & REFRIGERATION PIPEFITTERS LOCAL UNION 787
The work we perform is in the air conditioning, refrigeration and mechanical systems industry. This includes ICI construction, residential construction and the service & maintenance sectors.
Our work covers installation, retrofit, service, maintenance and repair of all aspects of comfort cooling and heating, as well as process cooling, ammonia, glycol systems for cold storage and ice rinks, pharmaceutical plants, supermarket refrigeration, facility management, building automation and controls, and many others.
On April 14, 1951, Local Union 787 was issued a charter from the United Association of Journeymen and Apprentices of the Plumbing and Pipefitting Industry of the United States and Canada. Our jurisdiction encompasses the province of Ontario.
We have over three hundred (300) contractors signatory to our Collective Bargaining Agreements. Our journeyperson and apprenticeship training school is one of the finest in the United Association. This site has been designed to serve as a resource, an information station, and a destination for anyone with an interest in the HVACR industry. We will add content continuously, and offer links to other sites of special interest as well as our sister UA Locals.
We welcome applications to our Local Union and training facility year-round. We have the best trained craftspeople in the air conditioning, refrigeration, and mechanical industry in North America, and we strive for the best. We hope you enjoy your visit with us, and we hope you return again soon. If you have a comment or suggestion for us, please feel free to contact the Local.
Important Contacts at the JTAC
Andrew Tarr (Union Business Manager) ext. 227
Ian Frost (Union Business Agent) ext. 237
Tony Panetta (Union Business Agent) ext. 239
Nick Pontrelli (Business Agent) ext. 244
Anthony Finelli (Union Member's Services) ext. 241
Vanessa Homiak (Union Member's Services) ext. 222