ORAC Board Of Directors 2021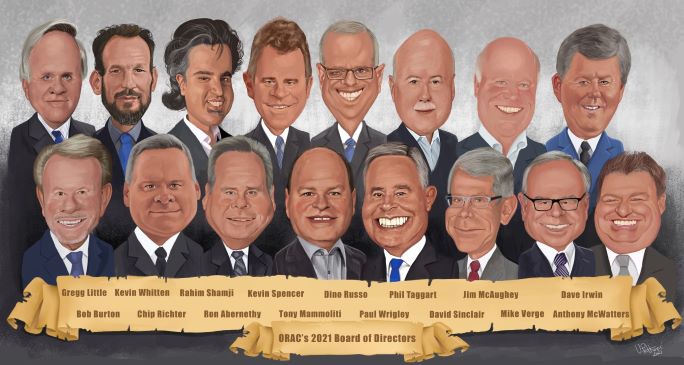 *Executive Committee of the Board of Directors​
*ORAC President Paul Wrigley E.S. Fox Ltd.
*Vice President Kevin Spencer Modern Niagara Group Inc..
*Past President Tony Mammoliti Ambient Mechanical Lt.
*Treasurer Gregg Little Springbank Mechanincal Systems Ltd.
Board of Directors
Phil Taggart Black & McDonald Limited
David Sinclair CIMCO Refrigeration
Bob Burton E.A. Group
Ron Abernethy Kelson Company Ltd.
Dino Russo Readair Mechanical Services Ltd.
Rahim Shamji Right Time Heating and Air Conditioning Inc.
Kevin Whitten Rosetown Central Refrigeration
Jim McAughey Standard Mechanical Systems Ltd.
Dave Irwin Xtra Mechanical Ltd.
Kelly Burns Tri-Air Systems
MCA Ex-Offico
Anthony McWatters McWatters Mechanical Ltd.